Birmingham Second City
History
Birmingham started as a Saxon village and in the 12th century it became a town and under the Kings agreement it became a market town with a monthly market. This drew artisans and business people to move to Birmingham which increased its population. By the 14th century it became a town renowned for its selling and dyeing of wool and metal ware.
Birmingham became known as a centre of manufacture including leather, knives, nails and foundries. It was well situated having nearby coal seams, access to iron ore and rivers to generate power through the use of water driven mills. Birmingham's population increased and it became one of the most prosperous and populated cities in the UK.
It has produced fine glass, silver and brass fittings including coffin handles. This was a city that would turn its hand to anything that needed to be made and this led to the prosperity and title of UK's second city. During the second world war Birmingham produced weaponry and was a target of the German Luftwaffe which led to many parts of the cities building being badly bombed and the loss of over 200 lives.
Birmingham has moved on and regeneration plans have come and gone. It is now set up for the largest generation package in Europe with a completion date of 2026. This will bring to Birmingham improved infrastructure, opening up of canals, major building and job creation and a world class centre of tourism.
Students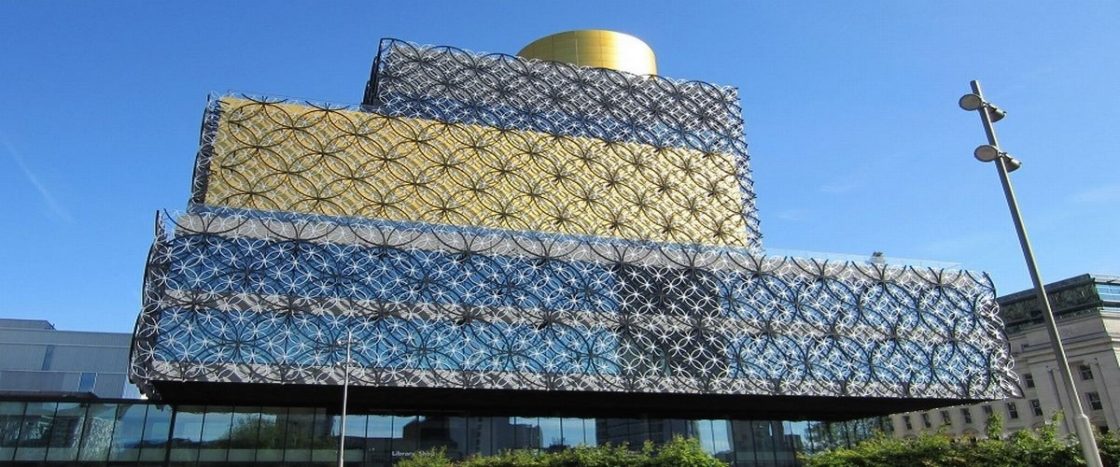 Birmingham in 2019 is a vibrant and cosmopolitan university city with a population of over 1.2 million people and has a diverse culture which it is proud of. It is a university city and has a student population of 80,000 studying at the four major Birmingham Universities of Aston University, Birmingham City University, Birmingham University and Newman University.
This has led to a need for short term storage and students will find local self-storage and compare prices. Students are often on the move either moving from halls of residence or house shares and do not want to move their belongings back home during such breaks of tenancy. Personal belongings, books, course work and IT equipment.
Some of these moves can be last minute decisions as students' parents can take the decision themselves to down size once their children have gone to University and could be an opportunity for the parents to use self-storage for their own needs. These moves can happen at the last minute even before new accommodation has been sourced and set up.
Once they have graduated and are moving to that new first and exciting job it is one less stressful thing to worry about are what to do with their personal belongings and keepsakes they have collected over the time. This can be a cost-effective solution for both students and parents as commercial rent is on average £30 per square foot and self-storage is £2.60 per square foot.
Regeneration
Urban regeneration has had a dramatic effect on the city centre with a concentration on encouraging businesses including high tech and service providers to relocate to the city centre.
Relocation for jobs as well as a ready supply of highly skilled and educated graduates form the local universities. Large and small employers have moved to Birmingham including major financial bodies, banking, call centres and high-tech industry.
The approach to renewal in Birmingham city has coincided with a reversal in city-wide growth trends. Birmingham as a whole saw a reduction in private sector jobs 1998-2008 however in the city centre there was 27% increase, 80% which were in knowledge intense businesses.
What brings visitors to Birmingham is due to Arts and Culture, Museum and Galleries, Food and Drink, The Nightlife, The Music Scene, The Sports, The Shopping, the Hotels, the Christmas Market and the Transport Links. In 2018 Birmingham tourism sector welcomed over 42 million visitors with a spend of £7 billion.
Sports
Birmingham is home to the world-famous football clubs Aston Villa and Birmingham City and there has always been a healthy and competitive rivalry between both clubs. Aston Villa had an average home attendance of 36.000 totalling over 820,000 during the 2018/2019 and Birmingham City had an average home attendance of 22,500 totalling over 510,00 during the 2018/2019 season.
The revenue from football fans supports the economy of Birmingham through Club Shops and merchandise, match day revenue, hotel stays, food and beverages and traveling into Birmingham International Airport or mainline stations.
Birmingham is the home of the Alexander Stadium and Edgbaston Cricket Ground. These are important training resource for the athletes as well as an opportunity for fans to see world class events.
Large and small sporting crowds require food and beverages as well as souvenirs of the event. Self-storage is an ideal way for some of these large and small businesses to store their products and items locally and be flexible in the amount of storage required.
Hotels and Accomodation
Birmingham has a thriving social scene and all those 40 plus million visitors require somewhere comfortable and affordable to rest after a busy day taking in the sights and sounds.
There is basic 1* Bed and Breakfasts and hostels through to 5* hotels apartments including Airbnb accommodation. Birmingham has award winning accommodation to suit all budgets.
Food, Drink and Nightlife
Birmingham has a wide range of restaurants, cafes, bars and pubs. There are choices for all food needs, tastes and requirements. There is traditional pub grub, award-winning high-end restaurants and many diverse foods from all over the world as well as food on the go.
There are many start up street food restaurants that have become established parts of Birmingham's colourful and flavoursome cuisine map. These street food cooks and chefs are often entrepreneurs with a vision and a feel for flavoursome food.
Start up businesses need to keep down costs and using self-storage is a way of storing food and beverages in a dry and safe environment and gives them the flexibility that businesses requires. This is a sensory adventure for all visitors' students and Brummies'. Birmingham can be a party city as well as a chilled and laid-back experience. Birmingham has the late pubs, bars, clubs and DJ's as well as chilled atmosphere and ambience as well as a city that does business over dinner.
Transport and infrastructure
Birmingham is well situation in the heart of the country and has has well planned transport and infrastructure including superb railway Grand Central Station with links to London, the Midlands and Northern Towns and Cities. There is a clean and efficient bus and tram system that provides quick access to greater Birmingham and other Midland cities from the city centre.
Birmingham International Airport deals with 14.5 million passengers per year as well as around 30,000 tonnes of import and export freight and mail annually.
Many visitors to Birmingham are regular visitors and can take advantage of local self-storage for short and longer periods to store valuables and possessions.